Giving Hope to Our Neighbors
Thank you for visiting Empower Boone! Hunger is just one of many issues our neighbors face on a daily basis. With the support of our community and beyond, Empower Boone helps fight hunger each day with the support of our wonderful partners like you!
Food for Today. Building for Tomorrow!
Empower Boone recognizes that our neighbors not only face food insecurities but often face challenges in connecting with community resources for help with rent, utilities, job placement, physical/mental health, senior services, and much more. We are here to connect with our neighbors in any way needed. Together, we are neighbors helping neighbors.
Empower Boone Pantry in Action
Find a calendar of our community events! Whether you're looking for a little help or have some time to make Boone County a better place to live, find a day to join us.
We couldn't do it without the help of some great organizations and community members. Meet the friends we rely on every day!
Whether you're looking for information, or a little help, or even a way to give back, find the right program for you!
Make a difference in a neighbor. Volunteer in our warehouse or on a food distribution day.
For every $1 dollar donated, we can buy $8 dollars of nutritious food.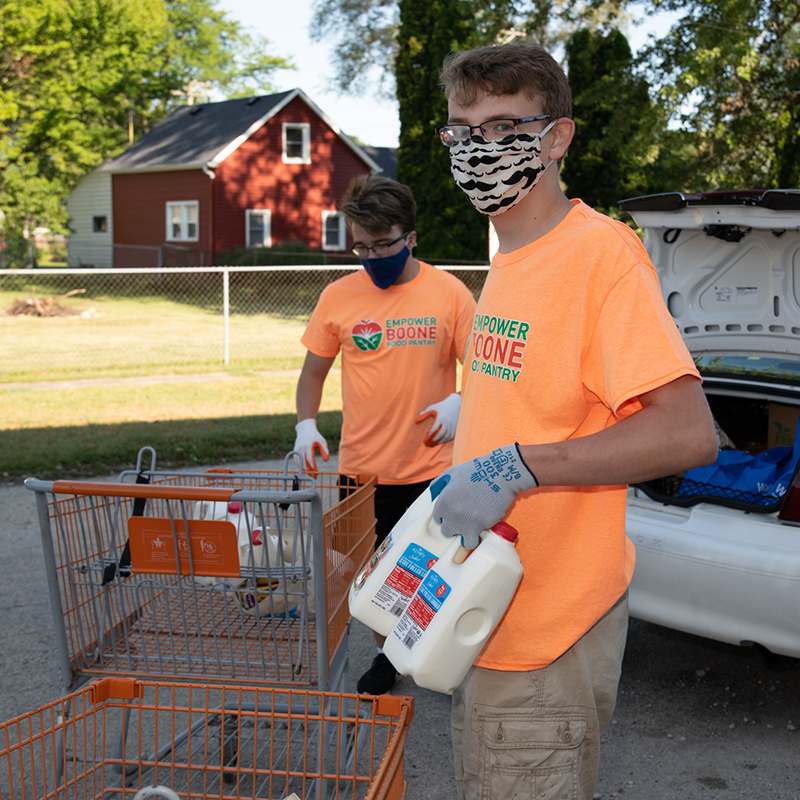 Help Empower Boone Food Pantry support our community impacted by poverty and the pandemic.
Donate to the Covid-19 Response Fund.
Visit us! We are here
Mondays, Tuesdays, and
Thursdays 8-4 p.m. or by
appointment.
200 South 5th Street
Capron, IL 61012
Help us serve our
community! Click the
button below to donate.
Give us a call! We want
to hear from you.
Let't talk! We are here to
help you with what you need!